Several weeks ago, I saw a post in my sidebar on Facebook from Woolzies Dryer Balls. They were writing on the Facebook Walls of some of the larger cloth diaper blogs, looking for some bloggers to do a review and giveaway. An email address was left to contact if they were interested. I figured it was a longshot, but sent an email to Woolzies. To my surprise, I received a response stating they would love to have me to do a review & giveaway!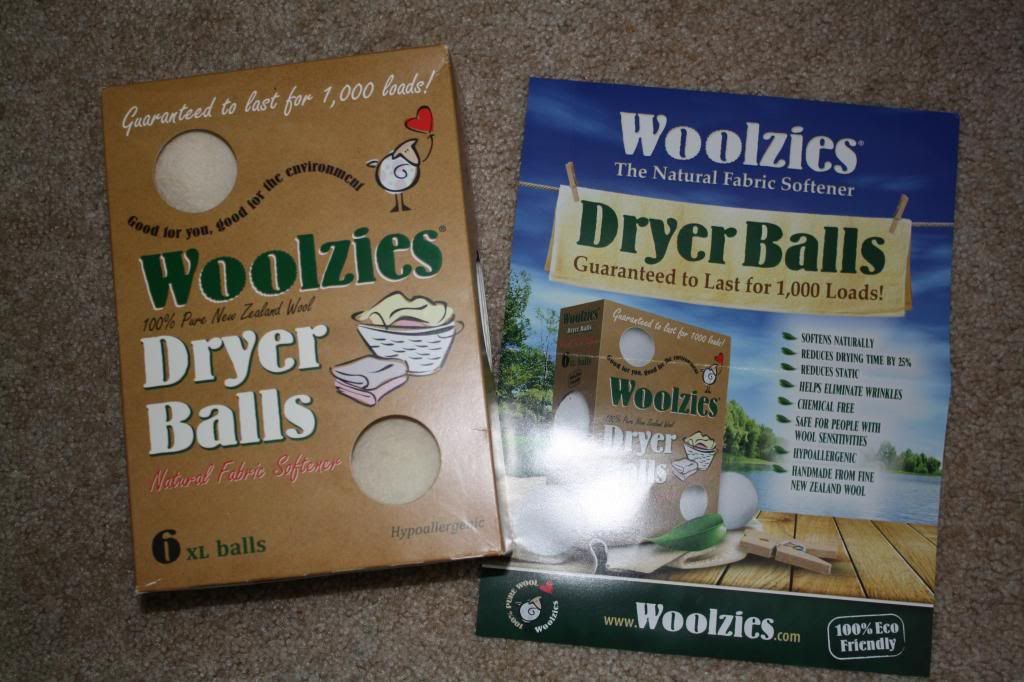 So here it is, my first review & giveaway for a product that I love! Dryer Balls! My package got here fairly quickly and I was excited to open it. I had a few (three) dryer balls already and knew I needed more. In case you don't know, wool dryer balls are a natural alternative to fabric softener or dryer sheets. They will help soften clothes, prevent static, and reduce drying time by up to 25%!
My Woolzies Dryer Balls came in a package of six natural colored balls in cardboard packaging with a handout and card containing more information about them as well. One of the first things I noticed about the Woolzies Dryer Balls is that they were a tad heavier than the other brands I had bought. Weighing them on the scale did also confirm that thought. Though they were roughly the same size, the Woolzies must have been made of denser wool. They are handmade, which you can also tell by looking at them - they are not all perfectly round. But if they're handmade, that only makes sense!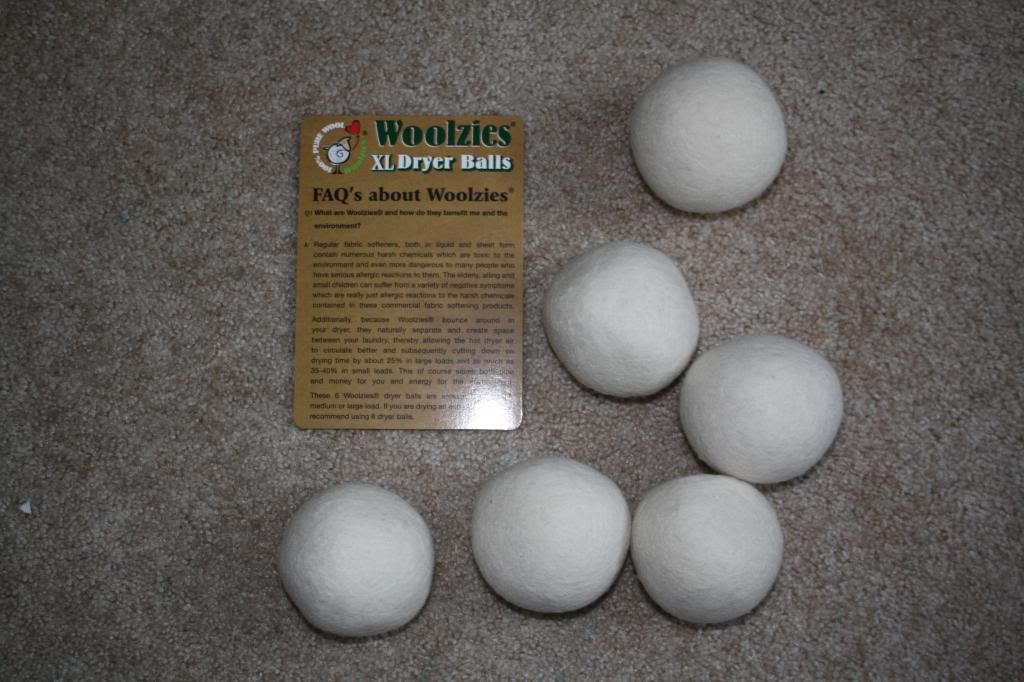 I put my Woolzies to the test a few different ways. First, I tried the six of them on regular laundry. The box states that six balls are for a large load. Well, I always do extra-large loads. I did notice that I was able to use a shorter drying cycle with the Woolzies than I was previously. Our dryer has five settings Less Dry, an inbetween, Normal Dry, an inbetween, and More Dry. Before Woolzies, I was always using More Dry. I was able to go down to Normal Dry and have dry clothes a the end of the cycle!
The next test was on my cloth diapers. Sadly, I didn't notice a difference in the length of time drying them took with only the Woolzies. Keep in mind, however, that I was drying denser cloth diapers like GroVia Organic Cotton Soakers, Thirsties Hemp Inserts, and Flip Organics.
The following times I did laundry, I used the Woolzies with the other dryer balls I already have - nine total dryer balls. I was able to get regular loads down to Less Dry for lighter materials and the in between Less and Normal dry for loads that had towels or denim in them. I was also able to shorten my cloth diaper loads to a More Dry cycle instead of an 80 minute timed cycle. This was very exciting to me!
I'm sure if I only did large loads, the six dryer balls that come in a Woolzies package would have been perfect. I would definitely recommend them and will buy more if I ever need them. At the moment I am short a dryer ball. My 16 month old daughter was "helping" me do laundry the other day and she seems to have run off with one!
You can buy your package of six Woolzies Dryer Balls from their
website
for $34.95. This price includes shipping to the United States, but they do also ship worldwide for only $6.95 extra. OR you can enter to win your very own set of Woolzies Dryer Balls using the giveaway form below!
a Rafflecopter giveaway
**Everything written in this review is from my opinions and observations when trying the product. Please remember that you may have a different experience than I did and that what works for me may not work the same for you. All photos have been taken by me unless stated otherwise. I have been provided with product to review by Woolzies, however I have not received monetary compensation for this review.
Fluffy Bum - Green Home is not responsible for sending the prize to the winner. Contest is open worldwide and will end on 1/30/13.