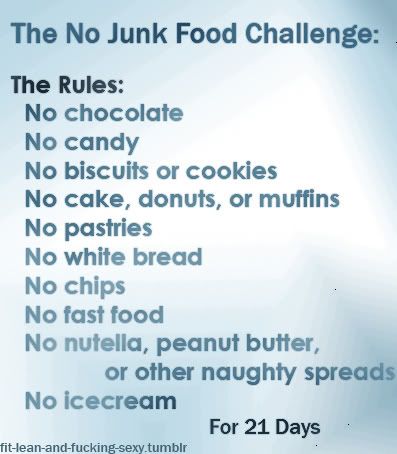 Last week I started the No Junk Food Challenge. I know one of my friends decided to join with me. Did anyone else? If you're seeing this for the first time, feel free to join in with us starting this week!
For anyone just joining us, here is what the No Junk Food Challenge is all about. Every week we are eliminating one junk food item from our diets. But because it can be really difficult, I'm allowing cheats. Last week we eliminated chocolate, but allowed up to 1 ounce of dark chocolate per day. For the month of March we will try to go without all of the items on the list!
So how did everyone do last week? I passed! It was a hard couple of days. We are currently staying with my in-laws and my mother-in-law made dark chocolate brownies. They looked and smelled amazing. I wanted to eat them so badly, but I didn't. I picked up a Dove Dark Chocolate candy bar and am proud to say that I only ate one little square! The whole candy bar is 1.44 ounces of chocolate so I am happy with how I did.
Tomorrow starts week two of the No Junk Food Challenge. This week's challenge?
No Candy & No Chocolate
This one will be pretty easy for me; the only candy I really eat is chocolate. But for those of you that need a cheat, go ahead and eat some, but keep it under 100 calories.
If you've joined me in this challenge, please let me know how you're doing!